Why you should never do a full install with downloaded software
Why you should never do a full install with downloaded software
There is loads of handy tools that you can download from the internet. And many of them are even free of charge. But quite some times free is not as free as it looks.
There are a loads of handy tools that you can download from the internet. And many of them are even free of charge. But quite some times free comes as "nothing is for free". Be careful when you download software from the internet not ending up having additional software installed that you haven't asked for. So here some tips.
Use trusted sites
Always download from sites that are "trusted" for promoting good freeware. There are many IT related magazines that offer freeware that have been selected by the publisher. CNET is an example of a reliable source.
Don't download from everywhere
Limit your download sources. Don't shop everywhere. Find reliable sources for downloading freeware.
Don't give your actual email adress easily
Never share your regular email after a download is completed and are ready start to install. Most likely you will end up with another newsletter you will never read. If you want a newsletter from this site, ask for it on their website.
Check the link to the download first
Always check the downloaded for the file to be downloaded before downloading it. If the name doesn't relate in any way to something you asked for it could be something completely different. Many sites have a number of sponsored links to other software that are more prominent than the link to your selected software to download.
Find a review or a forum
Find a review of the chosen software on Google before installing it. Maybe you will find more warnings not to install it because it might contain malware. Otherone's experience can be very valuable.
Never install with additional installers
Never install software that can only be installed when additional installer software which has to be downloaded additionaly. If the freeware you want is popular, there are for sure more websites that offer it without the demand for installing extra installers.
Never do a full install
Never do a full install. A custom install mostly shows that the software will install much more than you ask for. See the example below from CNET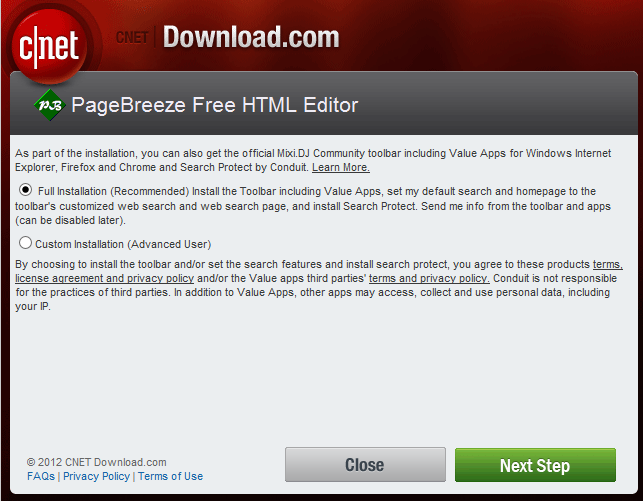 The custom installation options:

As you can see a full installation would install a toolbar and even change your search and home page in your browser. You certainly don't want that.
Never install anything else
Never accept any other installation than the software you aimed for. Loads of installations have a number of dialogs to go through where you have to accept the installation of games or other stuff. Never accept this. Most of the time it will continue the installation anyway without installing the extra don't wants.
Remember the good ones
Remember the free tools you like to work with. Sometimes you forget that you already have a good tool for a certain purpose. Save yourself the trouble and remember what you have installed. Better be safe than sorry.
Keep your PC/laptop clean
Clean your PC on a regular basis. Uninstall what you don't need (anymore). Checkout the installed software which you don't know or remember anymore. Sometimes you have software in your menu that doesn't ring any bells using it. Get rid of it. You probably won't miss it.
Don't pay for freeware
Don't pay for freeware
If you like it, make a donation as an appreciation to the developer. Don't ever use your creditcard for an installation. The donation should only be done over secured links with third-party payment portals.
Shareware is not freeware
Shareware is mostly offered as a free to try the full version. After a trial period you can buy a license. But if there is a freeware version, it might cover your demands too.
Buy good software
If you use certain software a lot and it helps you out in saving time and even makes you money, consider to buy a license or to send an appreciation to the developer (donation).