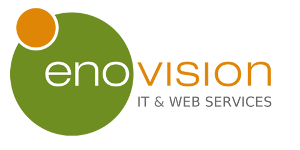 Address
Enovision IT & Web Services
Koningsspil 59 8102 DH Raalte The Netherlands Phone : +31 (0)572 255000
Company
CEO: Johannes Jacobus van de Merwe Chamber of Commerce (KVK): 73454567 IBAN: NL74 KNAB 0258 3447 84
VAT-id: NL001660367B08
Content responsibility
Johannes Jacobus van de Merwe E-mail: j.vd.merwe@enovision.net Phone : +31 (0)572 255000
Disclaimer
All rights reserved. Any reproduction, duplication or publication of contents of this website requires the written permission and is prohibited. The data on the homepage of Enovision IT & Web Services correspond to the current status of 28.01.2021 as well as the legal regulations valid at that time. All data has been compiled with the utmost care. 
A liability of Enovision IT & Web Services as the publisher of the homepage and other third parties is basically limited to intent and gross negligence. For the correctness and completeness of the data is also liable in case of simple negligence, but limited in scope to foreseeable damages. 
Despite careful content control, we assume no liability for the content of external links. The content of the linked pages are the sole responsibility of their operators.